FH Academy Surf Factory
The coolest store in Porto Pollo
The Shop
Born from the passion and competence of FH Academy, with the choice of the most modern and avant-garde products in the sport of water sports.
The Surf Shop sells clothing and shoes and is specialized in particular in the sale of surf items.
The surfer enthusiasts will find at the point of sale wetsuits, shoes, fins and other protections, necessary to practice this sport in a comfortable and safe way.
We are in Via Sebastiano Satta 2 - 07020 Palau and we are open every day (Monday to Saturday from 10.00 to 22.30, Sunday from 10.00 to 14.00 and from 18.00 to 21.00).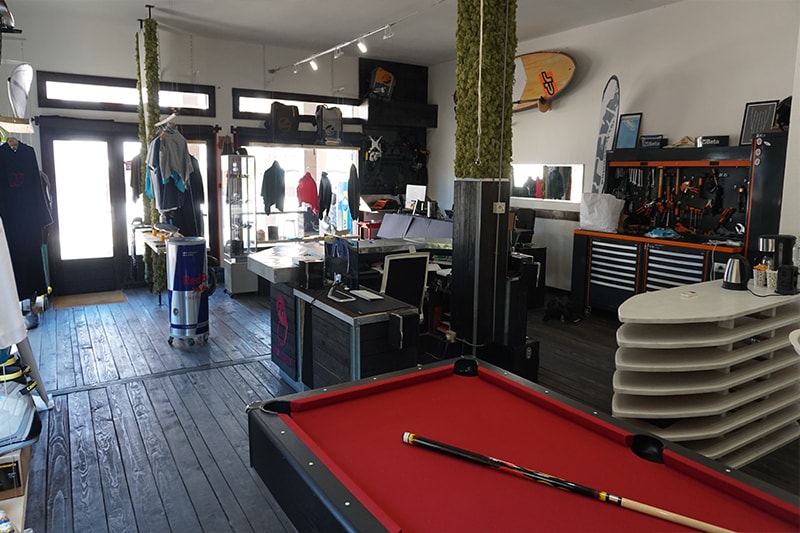 Assortment of material and technical clothing.
All our tables are in good condition. It is possible to rent and buy some of the tables of our selection (we change our assortment every 6 months).
Bike Rental Service
The ns. bike rental service is located right in the center of Porto Pollo and is the ideal starting point for your bike tour. No matter if you want to take a spectacular mountain bike tour or cycle along the road to Palau we find the right bike. We rent mountain bikes, city bikes, tandems and E-bikes. For families with small children we have bicycles with child seats or carts, for children a little older, but who are struggling to make a long journey, we offer the possibility of a camel. And also for your dog we have the trolley.
ATM | Bancomat
The only ATM / Bancomat cash machine in the Porto Pollo area is available at the shop.
Book your Qooder Experience
At our shop you can book the new Qooder . The first and only vehicle in the world with 4 tilting wheels that offers incredibly different driving experiences. Unlike anything you can imagine. It combines the stability of the car with the thrill of the bike, creating a new category unique in its kind. Qooder offers safe and intuitive driving, maximum levels of comfort and pure driving pleasure. You need B driving License to drive a Qooder.
You will not find anything like that around. ...
When you are driving a Qooder it is natural for you to move safely.
The more you drive it, the more you will want to drive it.
Via Sebastiano Satta 2
07020 Palau

Indirizzo Email

info@fhacademy.it
Tutti i Giorni 8:30 - 18:30

Contatti

+39 348 9964620
da Lunedì a Venerdì 8:30 - 18:30